General description
Our product group of gearmotors can be used within the power limits of 0,75-15 kW and between 12,5-315 rpm. as complete universal built-in driving units. In the high strength cast iron housing of our gearmotors there are built in case hardened, ground gears of the quality IT7. Our professional personal, our high quality level production and our quality assurance system according to the norm ISO 9001 are the guarantee that our gearmotors comply with the related DIN-Norms.
Design of the Housing
Our gearmotors are designed with foot-, flange- or shaft mounting. All these three variations can be built in in any positions according to your choice.
Motors
The electric motors built together with the gearmotors are asynchronous motors of a voltage of 3x380 V with short-circuited rotors, of a protection I 55 and a class of isolation "F". Our gearmotors can be ordered also with special motor designs: explosion-proof, of a different protection class, fitted with brake and/or a second motor shaft extension. The special construction makes the quick and simple replacement of motors possible within the same motor size, so the Customer can also change the technical characteristics of the equipment within certain limits.
Drive with adjustable speed
Our drives can be fitted with electronic frequency control making possible the stepless control of the output speed. The frequency control unit fitted with built in current protection is also suitable for synchronisation, braking and the automation of the drive.
Optional Additional Units
The following elements can be ordered for attaching to the output shaft of the gearmotors: flexible coupling (KR), V-belt sheave (KE), sprocket (KL), cylindrical gear (FK). The following elements can be built in between the motor and the gearbox: flexible coupling (BR), overload release clutch (BN), overrunning clutch (BS). We are also at the disposal of our customers with the design and manufacturing of other elements to be fitted in the driving chain.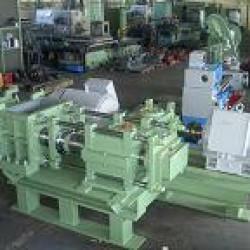 Download:


Motoros hajtóművek.pdf